from cells to first strand in a single tube in less than 2 hours
complete system for immobilized cDNA library construction, including mRNA purification step
fewer manipulations
each immobilized cDNA library yields 20 robust PCR reactions
ready for direct use in PCR, RACE, cDNA amplification, aRNA amplification, and cDNA cloning
no RNA elution step necessary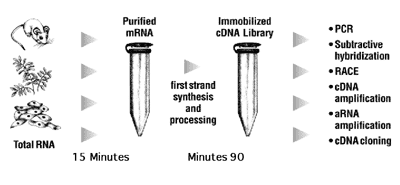 The SOLIDscript™ Solid Phase cDNA Synthesis Kit allows you to go from cells, animal or plant tissue and total RNA directly to an immobilized cDNA library in less than 2 hours, enabling you to get your PCR results in the same day. The immobilized cDNA library is ready for direct use in PCR, RACE, cDNA amplification, aRNA amplification, and cDNA cloning.
The kit comes complete with both mRNA purification and first strand synthesis components. There are enough reagents to make 25 immobilized cDNA libraries, each of which is large enough for 20 robust PCR reactions. The resultant immobilized cDNA libraries are stable under proper storage conditions for a minimum of 18 months. The SOLIDscript™ kit performs as well as the standard solution-based method for RT-PCR as demonstrated in Figure 1.
The magnetic solid phase-based protocol is accomplished in a single tube. This eliminates potential loss of template and increases the likelihood of detecting poorly expressed genes in the generated cDNA library. Other benefits of the SOLIDscript™ system include rapid manipulations with no phenol extractions, ethanol precipitations, or centrifugations; increased sensitivity; and, elimination of a separate RNA purification process.

Differential expression of three genes in four different mouse tissues was tested. The results (Figure 2) were comparable to results obtained in an analogous assay using solution-phase RT-PCR (data not shown). Tissue specific expression of the dopamine receptor D2 gene and the tyrosine hydroxylase (TH) gene was also studied (Figure 3). Duplicate RT-PCR reactions for D2 and TH from liver showed no amplicon, whereas duplicates from brain tissue produced amplicons of the expected size. The lack of spurious bands in the liver samples illustrates the specificity of RT-PCR using SOLIDscript™.

Related Sections:




Figure 1: Comparison of solid phase- versus solution-based RT-PCR.




Figure 2: Differential expression analysis by solid phase RT-PCR.



| Catalog # | Description | Unit | Price |
| --- | --- | --- | --- |
| SSP5001 | SOLIDscript ™ (25 reactions) | 1 Kit | $325.00 |
| SSP5001M | SOLIDscript ™ (25 reactions) with mini-magnetic separator | 1 Kit | $355.00 |
| SSP5500 | SOLIDscript ™ & Taq-FORCE ™-250 System Bundle | Bundle | $460.00 |
This kit is covered by U.S. Patents: 5,601,979; 5,610,274 and 5,734,020 owned by EMD Millipore Corporation and licensed to PureBiotech LLC.






© 2004-2019 PureBiotech LLC All rights reserved.