Keep your glassware, apparatus and lab surfaces free of RNase.
Stable, heat resistant
Inactivates >80 µg RNase A
Non- alkaline
RNase-OFF™ is a non-alkaline cleansing solution that is highly active against RNase contamination. The solution contains a surfactant plus an agent that inactivates RNase. RNase-OFF™ has been demonstrated to eliminate >80 µg of RNase A dried onto the bottom of a microcentrifuge tube. This is at least four fold more effective than the leading brand. RNase-OFF™ decontamination solution is stable and heat resistant, unlike many alternative products which are not stable and quickly loose their RNase decontamination activity. In addition, RNase-OFF™ does not contain carcinogenic compounds.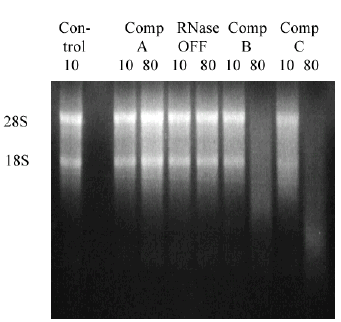 Effectiveness of RNase-OFFTM at removing RNase A. 10 and 80 µg of RNase A were dried onto the bottom of micro-centrifuge tubes. The tubes were treated by adding 1.0ml of RNase decontamination products, vortexing briefly, and rinsing twice with 1.0 ml nuclease free water . Five µg of total RNA (mouse liver) was then added to each tube and incubated for 1 hour at 37°C. The RNA was resolved on a 1.2% agarose gel (1X TAE) and visualized by EtBr staining. Intact rRNA bands (28S and 18S) indicate the absence of RNase contamination.
| Catalog # | Description | Unit | Price |
| --- | --- | --- | --- |
| R0251 | RNase-OFF™ Spray Bottle | 250 ml | $25.00 |
| R0252 | RNase-OFF™ Spray Bottle and Refill | 250 ml and 500 ml Bundle | $49.95 |
| R0500 | RNase-OFF™ Refill Size | 500 ml | $32.95 |






© 2004-2019 PureBiotech LLC All rights reserved.