Decontaminate PCR work areas
Ready-to-use
Cost effective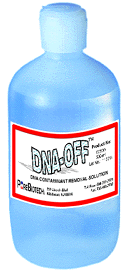 Non-carcinogenic

Heat resistant
DNA-OFF® is a non-alkaline cleansing solution that is highly active against DNA contamination. This solution contains a surfactant plus an agent that destroys DNA. DNA-OFF® is intended for use at PCR workstations, including countertops, apparatus and pipettors. Presence of contaminant DNA at a PCR work area can result in DNA amplification artifacts. DNA-OFF® has been demonstrated to effectively remove DNA contamination (

30 pg p53 DNA template) from a countertop as evidenced by the inability to generate a PCR product after cleaning (Figure 1).

The DNA-OFF® decontamination solution is stable and heat resistant. In addition, DNA-OFF® does not contain carcinogenic compounds.

DNA-OFF® is ready-to-use for eliminating DNA from all surfaces. The decontamination instructions are easy to follow. By simply applying DNA-OFF® and rinsing, DNA is completely removed leaving your work area free of contaminant DNA. It is available in a spray bottle and also an economical refill size.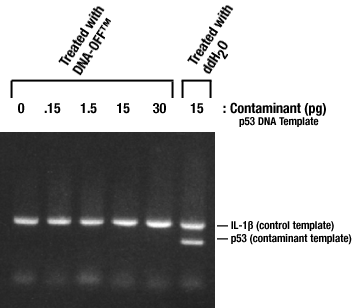 Figure 1
Effectiveness of DNA-OFF® at removal of DNA contamination. Increasing amounts of p53 template DNA were dried onto the bottom of thin wall PCR tubes. DNA-OFF® (100 µl) was added to the tubes as indicated and 100 µl ddH2O was added to the control tube. Each tube was vortexed for 20 seconds followed by two 100 µl washes with ddH2O. PCR reaction mix containing 15 pg IL-1b DNA template and both IL-1b and p53 were added to each tube and run for 35 cycles. PCR products were resolved on a 1.2% agarose gel (1X TAE) and visualized by EtBr staining.
| Catalog # | Description | Unit | Price |
| --- | --- | --- | --- |
| DO251 | DNA-OFF® Spray Bottle | 250 ml | $27.72 |
| DO252 | DNA-OFF® Spray Bottle and Refill | 250 ml & 500 ml Bundle | $54.95 |
| DO500 | DNA-OFF® Refill Bottle | 500 ml | $36.25 |






DNA-OFF® is a registered trademark of PureBiotech LLC.
© 2004-2023 PureBiotech LLC All rights reserved.